BDO Lakeside World Championship (Day Six)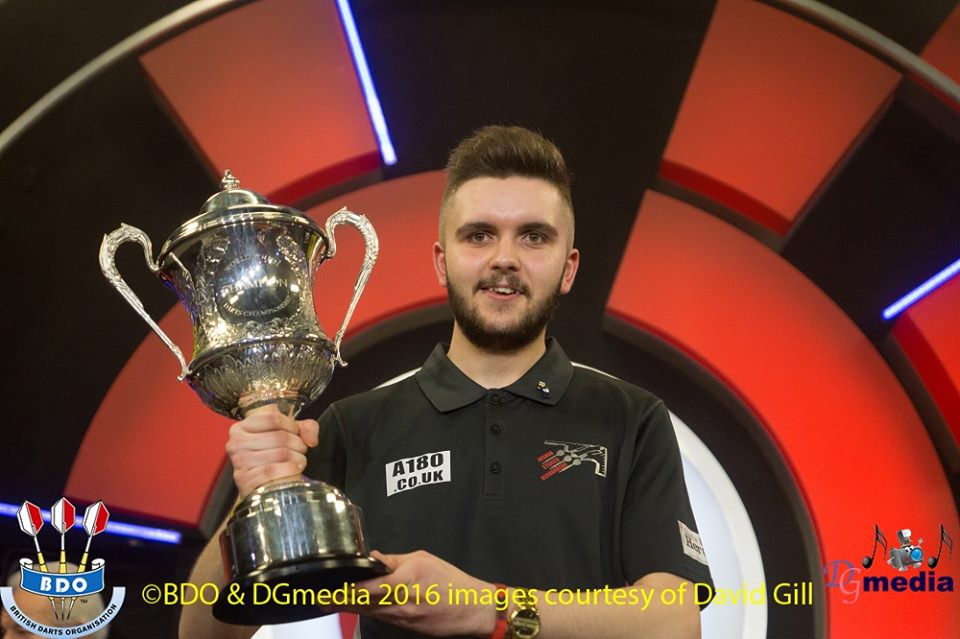 We start today by focusing on the first BDO World Championship of 2016 to be decided.  England's Joshua Richardson (above) pipped Ireland's Jordan Boyce to the title in a closely-fought five-setter.
Richardson lost the first set after missing 10 darts at a double (after opening 180, 139, 81) to win it 3-0!  The Rushden youngster bounced back to make it 1-1, only for Boyce to regain the lead in the third.  Richardson kicked it up a notch to level again, and then produced the best set of the match, finishing in style with a beautiful 13-dart leg (121, 100, 100, 127, 32).
There were three men's matches today, and all provided some scintillating moments.
Reigning champion Scott Mitchell survived a total of six match darts from Mark McGeeney to scrape through to the quarters.  McGeeney needed just 12 darts (100, 180, 180, 41) to pocket the first leg of the match, and kept the pressure on Mitchell for the whole contest.  At three sets apiece, it went to an 11th-leg tie-breaker, although honestly, McGeeney should have wrapped it up before then.  Still, this was the time for Mitchell to shine, and he sealed victory in only 14 darts.
Mitchell now meets Richard Veenstra, who disposed of Martin Atkins without dropping a set.  Atkins was the only Englishman to exit the tournament today, as his fellow Yorkshireman Scott Waites edged out Geert de Vos in what can only be described as a game of two halves.  Belgian de Vos streaked into a three-set lead, only to lose form while Waites produced three stunning sets to tie the score.
Nerves played a big part in the first leg of the fifth, as both players missed doubles.  Waites finally hit checked out from 30, which seemed to have a calming effect.  A big 158 out next leg was followed by a brisk 14-darter, and the match was over.
Waites now meets Larry Butler's conqueror Glen Durrant tomorrow (Friday) afternoon, following the Wesley Harms/Jamie Hughes clash.  Jeff Smith and Dennis Harbour are the first men on in the evening session, with Mitchell and Veenstra closing out the evening.
In addition to the men's quarter-finals, the women's semi-finals are also being played.
Nine-time champ Trina Gulliver MBE provided something of a shock by knocking out reigning titlist Lisa Ashton by a score of 2-1.  Gulliver now takes on World Master Aileen de Graaf, who saw off her Dutch compatriot Anca Zijlstra, by the same scoreline.
Denmark's Ann-Louis Peters recorded finishes of 140 and 160 on her way to defeating Zoe Jones, and rounding out the top four is the evergreen Deta Hedman.  Seeking the one title that has eluded her during her long and illustrious career, Deta dropped just the one leg in her straight-sets triumph against Lorraine Winstanley.  Hedman and Peters go head-to-head in the penultimate match tomorrow night.