Stacy Bromberg – 1956-2017
Updated: February 13, 2017
It is almost thirty years ago – just two months shy of thirty years, in fact – that Stacy Bromberg won her first ADO tournament in Redondo Beach, in her native California.  That was just three months after she started playing the game, and was clearly a sign of things to come.  Since then, her exploits on the oche have become the kind of stuff of which legends are made…
On the domestic front, it is unlikely that Stacy's feats will ever be equalled, let alone surpassed.  Topping the ADO National Rankings 16 times in 18 years (including 13 successive titles) is one thing.  Winning the singles at the North American Open six years in a row is another, and don't forget that the NAODT used to attract many of the world's best.  Then there is the small matter of three National Cricket Championships, and thirteen National 501 Championships!  Thing is, these were "women's" events.  It would be remiss of me not to mention the time Stacy went down to Houston one year – and won the OPEN singles cricket!  In 2003, Stacy became the first female to hold all three ADO National Titles simultaneously.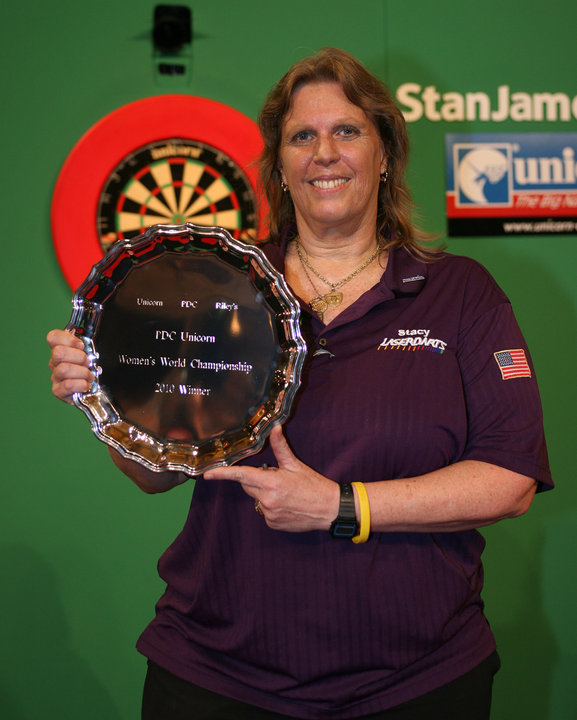 Internationally – other than the NAODT – Stacy's resume is also exceptional. The only American woman to win the singles at the PDC's Las Vegas Desert Classic (against Deta Hedman), and of course the incredible feat of winning the PDC Unicorn Women's World Championship in 2010.  That win came against her good friend Tricia Wright on the stage of the Blackpool Winter Gardens (see photo left).
Staying with the international scene, Stacy Bromberg's WDF World Cup career makes mighty fine reading too.  Making her debut in the Netherlands in 1991, Stacy lifted the overall Gold Medal when partnering Kathy Maloney at the 1993 World Cup in Vegas.  Four years later, there were two more Golds, as Lori Verrier and Stacy capture both the pairs AND overall.
In 2009, the WDF World Cup returned to the United States. This time, Stacy added the one title that had eluded her, and finally annexed the World Cup singles Gold against Julie Gore (Wales).  That moment is captured in the featured photo here.
It's not all about throwing darts, though.  Stacy worked tirelessly to promote the women's game, and really tried to get new people playing  Even more importantly, Stacy was committed to raising thousands of dollars for good causes, mostly through her "Score for Charity" darts fundraisers. Whenever you saw her, there was always a great reason for you to give money to help others and she made you feel great about it!  That's just the way she was…
So, that leaves a couple of items for me to cover…
Firstly, Stacy Bromberg was a great playing partner and a great friend.   I first met Stacy in Vegas at the North American Open, and I know now that it really wasn't that long after she had got into the game.  We played numerous events together – winning our fair share.  Mind you, it didn't always work out that way… One particular case was when we went down to Austin, Texas.  First event on Friday was Mixed Doubles, and not taking wishing to take anything away from the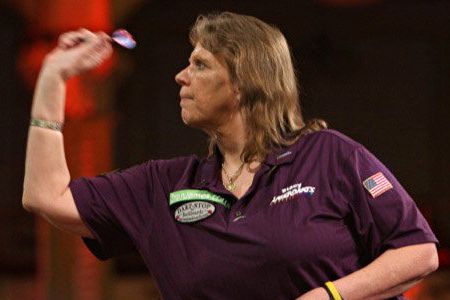 pair who beat us – who did play well – we sucked!  So, there we were apologizing to each other for an hour or so. Next event was the Blind Draw, and guess what happened?  Yes, Stacy and I were drawn together!  We won, and then we figured out it was because the Blind Draw payout was a lot higher than the Mixed Doubles payout!
We traveled the world together, and there were some crazy, crazy times, and I could write a whole book about our international trips.  The best by far was the Australian Grand Masters in 1999, when we were joined by Lori Verrier and David Marienthal.  People didn't always see the wild side of our Stace, but boy, she could be fun when she was abroad, and that weekend was no exception!  Fun, but harmless – generally.  Okay, maybe setting off fireworks in the hotel parking lot COULD have been a problem…
I'm not even going to mention Stacy and the Elvis impersonator at the World Masters at Lakeside!
Finally, on a serious note, here is something of which Stacy was fiercely proud – and something for which we should ALL be proud of her.  A few years ago, Stacy Bromberg was listed as #32 in a Sports Illustrated list of all-time sports greats from Nevada. When you consider how the sport of darts is often viewed in the United States, that is an incredible achievement, and it is a fitting tribute to a wonderful sportswoman and person.  You can see that list here.
R.I.P Stace-bo
Steve Brown