---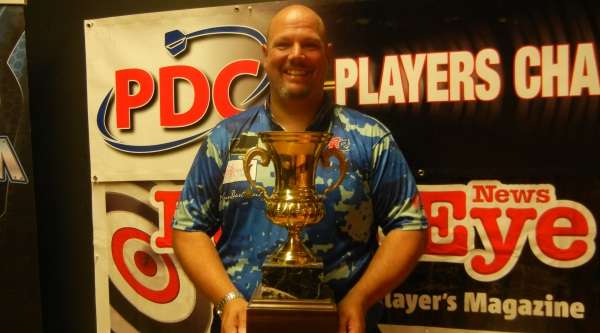 used with permission by the PDC
DARIN YOUNG has claimed a place at the William Hill World Darts Championship by defeating Larry Butler in the final of the 2015 PDC Spectacular in Kingston, Ontario.
A weekend of darts at the Ambassador Hotel and Conference Center saw four qualifying events each produce eight players who took part in the last 32 knockout for the PDC Spectacular.
Last year's winner Dave Richardson reached the last 16 before losing to Jerry Van Loan, with Young and Butler – the United States' World Cup of Darts team at June's event in Germany – progressing to contest the final.
Young took a 3-2 sets win over the former World Matchplay champion in the decider, earning himself a return to darts' greatest tournament in December.
Young's run included three straight sets wins over former World Championship qualifiers Norman Madhoo, David Fatum and Ken MacNeil – where the American left-hander missed double 12 for a nine-darter – before he then whitewashed Paul Bolduc to reach the final.
Butler, who had defeated Trevor Campbell, Jim Long, Shawn Brenneman and John Part to reach the decider, won the final's opening set 3-2 in legs before Young took the second, also in the fifth leg, to level.
The next two sets also went the full distance to take the final into a fifth set, which saw Young land a 177 as he broke throw in the opening leg before posting a 13-darter to move 2-0 up.
Butler hit back in the third, but Young was too strong in the next leg as he claimed the win and his World Championship spot.
"I'm very humbled to have won the tournament," said Young. "I'm thrilled to have won and I am looking forward to returning to the William Hill World Championship this December representing North America."
Young has competed eight times previously in the World Championship, but saw his run of playing in six successive Alexandra Palace events ended last year.
Three-time World Champion John Part missed out with a semi-final loss to Butler, while Bolduc also reached the last four and Dan Olson, Shawn Brenneman, MacNeil and Van Loan were quarter-finalists.
2015 PDC Spectacular
Qualifier One Winners: Shawn Burt, Dawson Murschell, Gord Mills, Jerry Van Loan, Gary Broomhead, Darin Young, Bob Sinnaeve, Keith Way.
Qualifier Two Winners: Chris White, Dave Richardson, DJ Sayre, Larry Butler, Dan Olson, Terry Hayhurst, David Fatum, Ken MacNeil.
Qualifier Three Winners: Shawn Brenneman, Trevor Campbell, Paul Bolduc, Martin Tremblay, John Part, Norman Madhoo, Jim Long, James Kinney.
Qualifier Four Winners: Rod Schmidt, Fred Morgenroth, Pat Gallagher, Gary Mawson, Matt Campbell, Guy Connelly, Ross Snook, Tim Nicoll.
Last 32
John Part 3-0 Matt Campbell
Gary Broomhead 3-0 Guy Connelly
Chris White 3-1 Shawn Burt
Dan Olson 3-2 Dawson Muschell
Larry Butler 3-0 Trevor Campbell
Jim Long 3-0 Ross Snook
Shawn Brenneman 3-1 DJ Sayre
Gary Mawson 3-0 Pat Gallagher
Ken MacNeil 3-0 Ron Schmidt
Tim Nicoll 3-1 James Kinney
Darin Young 3-0 Norman Madhoo
David Fatum 3-2 Gord Mills
Bob Sinnaeve 3-0 Fred Morgenroth
Paul Bolduc 3-0 Terry Hayhurst
Dave Richardson 3-0 Keith Way
Jerry Van Loan 3-1 Martin Tremblay
Losers $150
Last 16
John Part 3-1 Gary Broomhead
Dan Olson 3-2 Chris White
Larry Butler 3-0 Jim Long
Shawn Brenneman 3-2 Gary Mawson
Ken McNeil 3-1 Tim Nicoll
Darin Young 3-0 David Fatum
Paul Bolduc 3-2 Bob Sinnaeve
Jerry Van Loan 3-1 Dave Richardson
Losers $300
Quarter-Finals:
John Part 3-0 Dan Olson
Larry Butler 3-2 Shawn Brenneman
Darin Young 3-0 Ken MacNeil
Paul Bolduc 3-2 Jerry Van Loan
Losers $600
Semi-Finals
Larry Butler 3-1 John Part
Darin Young 3-0 Paul Bolduc
Losers $1,100
Final
Darin Young 3-2 Larry Butler
Winner $5,000
Runner-Up $2,400